Todos Santos Cuchumatán is a large Mam speaking Maya community in a remote region of Guatemala's western highlands.
A básico school in this highland town received a MEF grant to purchase art and workshop supplies. In addition, MEF has for years supported a scholarship program for younger students where families of elementary and secondary school children received small stipends, motivating them to send and keep their children in school longer than just a couple of years. MEF currently sponsors scholarships for grade school, high school (básico, diversificado) and university students in the region.
We thank the Daniele Agostino Foundation which has generously underwritten some of the projects in Todos Santos for several years.
MEF is honored to announce an additional program for
2011 in Todos Santos that will keep alive the memory
of a committed activist anthropologist and indigenous
rights advocate who made this world a better place: the Shelton Davis Scholarship Fund.
Carpentry tools for the Instituto Básico

of Todos Santos

Scholarship students

with
Armando Alfonzo

Parents talk about how the scholarship program

has impacted their families
Todos Santos Cuchumatán is a municipality in the Guatemalan department of Huehuetenango. It is situated in the Sierra de los Cuchumatanes at an elevation of 2,500 m (about 8,000 ft). The municipality covers an area of approximately 269 km² and is formed by the town of Todos Santos Cuchumatán, 6 villages, and 69 smaller rural communities, called caseríos, parajes, and cantones. The population is predominantly indigenous, of Mayan descent, most of whom still speak the Mayan language of Mam. The town is one of few places in Guatemala where indigenous men still wear their traditional clothing, along with the women.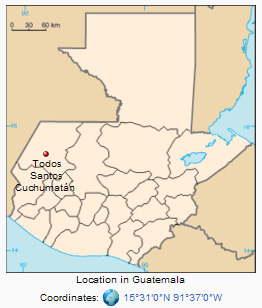 ---
US$ 190 supports the education of a university student for one month.
US$ 95 per month will pay for high school (bachillerato / diversificado) education for a young student.
US$ 50 per month will support a student's middle school (básico) education.

US$ 30
per month will allow a student to go to elementary school (primaria).
---